Museum
High Court of Punjab and Haryana, Chandigarh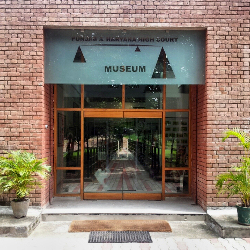 Museum Entrance
Timing:
All Days (9:30AM to 5PM)
Closed/Holiday:
Open all Days
Entry Fee:
Free
Photography:
Allowed
Museum Photo Gallery:
The museum at the High Court is a marvelous exhibition of the past. It provides us an opportunity of introspection and to know the historical development of this Court so that we may enlighten ourselves and appreciate the journey undertaken by it to reach where it is today. The History of this Court has been a fascinating growth of social and political affairs over which it has exercised jurisdiction. This exhibition at the museum is a modest attempt to recount and recapitulate the historical background of the High Court of Punjab and Haryana.
The Museum is home to Judgments and Court Records of historic importance like Bhagat Singh trial at Lahore, Arrest of Dr. Kitchlew, Creation of post of Chief Justice, arrest of Pt. Jawahar lal Nehru etc. Besides this various showcase items like Nathu Ram Godse's handcuffs and a copy of original Constitution of India signed by Constituent committe and many old stamps of the era are also on display here.
An old Court Room with all the old equipment like stamp, heater, sofas, pen stand, typewritter and calendar etc has been re-created within the premises to illustrate how the Court Rooms of that era looked.